Good Stuff
There has been so much going on the past few days I didn't post Lindsey's first dance. She went Friday night and had a blast…of course. She is my social butterfly.
Now you knew there would be at least one picture!
I don't know what the deal is with the hats but they just had to wear them.
Posted by Picasa
I like them so much more with out the hats.
Posted by Picasa
Alyssa is in this stage where some of her friends are trying the Goth thing When we went to get her hair done she wanted black streaks...yeah right. Much to her dismay mom isn't letting that play here. The closet she is getting is this t-shirt.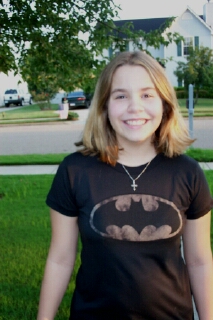 Alyssa sporting her new favorite shirt..
Posted by Picasa
Work is finally settling down and a routine seems to be in place. It is so much better then our first week. Thank god I couldn't have done that again. I start school tomorrow. I have the same teacher as last time so it will be a great class.